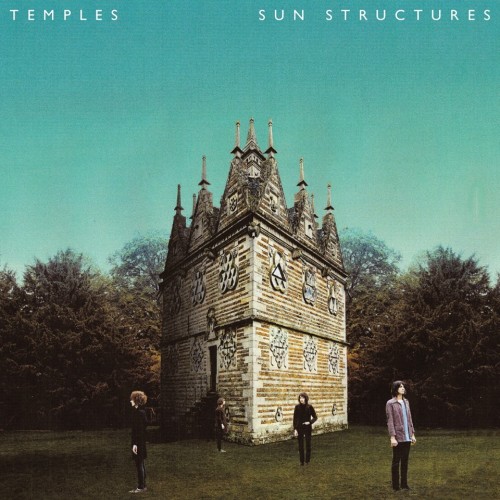 About : Temples

consist of lead singer/guitarist James Edward Bagshaw, bassist Tom Warmsley, drummer Sam Toms and keyboardist Adam Smith. The Kettering band released their debut album Sun Structures on 10th February 2014, including the singles Shelter Song, Keep in the Dark, Colours to Life and Mezmerise. The four-piece have supported Interpol, Suede, The Vaccines and Kasabian and will play Coachella in April 2014.

(from last.fm)
Review
________
I can't remember the last time I was caught by the music hype – usually I just wait until album is released and enjoy the music. But in this case, Temples, very fresh band on UK scene caused a lot of fuss in last few months, especially when their debut was finally released (February of 2014 – I didn't want to review it immidately, but rather wait for some fresh air). Not even Tame Impala popped up so quickly in viewfinder of many thirsty ears, it took them few years from their demos to Innerspeaker to really show themselves as the psychedelic giants. Thing with Temples was bit different - they've been pouring oil on fire with their singles and music videos throughout 2013, and coming of their debut album has been seen with big expectations. First time I heard about them, it was on MOJO compilation Echoes, which included Shelter Song, first song on this debut aswell, which blew me off completely. The itching riff had that great 60s garage roots, vocals were splendid and whole construction of song sounded very convincing. I instantly heard the next big thing. Title track, Sun Structures, had premiere on CTRL-sessions when they killed this song in the middle of church. Song sound very antic, like they've used some old mayan song and transformed it completely – with steady drum beat, swirling guitar and handful of crazy effects they almost opened a portal into parallel dimension.





The Golden Throne is another solid mindopener, from fast intro you dive into very thoughtful verse with great lyrics. It sounds like the early Moody Blues, in medium tempo, with a lot of progressive breaks and sentimental vocals. Their glam-rock heavyhitter, Keep In The Dark, is one of those instant hits from this album. Acid groveness that's present creates perfect catchyness that'll stick the song instantly to your head – mostly because of the unmercyfully cool beat. There's also this great break with thrumpet riff that serves as good conclusion of chorus. Mesmerise starts very euphorically and indeed, it's one of their most psychedelic songs in the classic version of that term – with oozing sounds of organs, and ever-present ancient echoes on those drums (which after all, really proofs the name Temples). Their references on freemasonry, opening of the third eye, parallel dimensions and revealing of life's mysteries can be seen in their great music video.



One of my favorite songs on this debut is the next one, Move With The Season. Nostalgic singing at the start soon transforms into something wilder with furios beat and dreamland guitar sound. After few minutes, songs sails away into more hazy waters, when vibrant effects starts creating dreamy sound illusions. Colours To Life has a way different feel, more progressive than dreamy, more static than tripped-out. Fine riff creates something like sound ladders onto which keyboards are set to create almost classic sound of the mindwarp. Temples are able to create a fuckin' great song with their trademark ancient, dreamy sound – but what is left out is balance. I don't criticise their fascination with effects and their higher aestetic of sound – it definately gives deeper stomp into new era of psychedelic music – but I feel somehow that they need more profinence, more songs that doesn't depend on fat beat with reverbed guitar. To be perfectly clear – more of their songs should follow example of A Question Isn't Answered, one of their best numbers on this album aswell. Intro sounds like nursery ryhme with wise lyrics that puts question mark at the end of the sentence, encouraging you to rethink everything withthe line : "a question isn't answered if an answer isn't questioned". Progression of the song is also pretty idyllic – from slow warm up, beat is patiently building tension until buzzed organs pierce your mind with acid riff. They also left some space to guide this space jam to some other galaxy, ending with beautiful outro.





The Guesser is hybrid between psychedelic ballad and pop song, with upbeat tempo and calming lead vocals. They don't repeat their mindless tripped-out sonic excursions in this one, but rather offer the other side of their sound – dramatic violin and flute arrangements. Test Of Time starts furiously, but as it continues it feels like they just extended the idea from The Guesser and changed few bits, there's no remarkable riff or any other variation from their usual sound. Sand Dance plays with oriental sound and length, being longest one on album, clocking at 6:31. However this space isn't filled adequatly – it doesn't possess creative strength of Shelter Song, or Keep It In The Dark or Move With The Season, and it's obvious that this song use more as a "album filler" than a serious show of their musical strength. Fragment's Light is like a farewell song from ancient temple ritual, sounds very esoteric and distant, like a forgotten mantra. This short but sweet last number corrects final opinion that Sand Dance spoiled a bit. After all – Sun Structures is a very good album, but that aftertaste is dry a bit, because of their constant single releases that already showed some of the best songs on album, leaving little to discover with the final listen. However, Temples are band that is up-n-coming. They succeed to create pretty good hype in rock and psychedelic circles, and they already are making name for themselves. They do sound like their influences, which I don't find bad. Music is not fashion and there's no need for constant changes in styles, I still appriciate other genres but I know what I like the most. To put an end to this long review – keep an eye out on these guys and enjoy!!
,
TEMPLES
(left to right - Tom Warmsley, bass guitar / top down - Adam Smith, keyboards, rhythm guitar / Sam Toms - drums / James Bagshaw, vocals, lead guitar
Cover Art : 9/10 - I love this cover so much, it's very mysterious and psychedelic at the same time - that house looks weird in classic-fairytale way. This design is much better than any of those designs they did for their singles. I think they maybe are making reference to The Who's - Who's Next cover, where four of them are standing around some monolith.