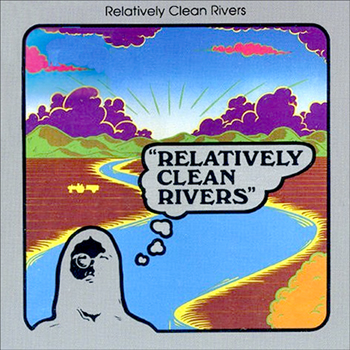 About :
Former Beat Of The Earth leader Phil Pearlman assembled this band in the early seventies and eventually recorded this magnificent rural rock album in 1975. The Relatively Clean Rivers album stands with the very best albums of the era, possessing a purely American sound and walking confidently past the shadow of its previous incarnation. Amazingly well produced for a private pressing, it is the very antithesis of his earlier releases that could be classified as garage (at a stretch, perhaps - they are not without a certain tangible sophistication). No measurable degree of time or expense was spared in the creation of the Relatively Clean Rivers album, which took over a year to assemble and is the most flawless snapshot of the California seventies underground scene you will ever hear.
My words : So past few days I was checkin' out Venenos Do Rock (which is one of my fav music blogs so far) and I find out that dude's been reuploading old albums. I stumble upon this album and checked it out, 'cause a cover looks pretty trippy and tag "obscure psychedelic hippie folk" often turns out to be one of your favorite far-out-tripping albums. So I press play and little did I know that in 30 minutes-or-so I'll be finding myself in a beautiful, colorful world. "Easy Ride" could be paying homage to legendary hippie movie with Peter Fonda and Denis Hopper, "Easy Rider" (as Fairport Convention did on "Unhalfbricking", covering The Byrds' song that was included in same movie), but it could just be a song about youth freedom and love. Acoustic guitar's picking sounds heartwarming, as solo guitar jumps up-n'-down. "Journey To The Valley" sounds like Phil Pearlman's ex-band, The Electric Hole (that I reviewd HERE) but without all the fuzz and noise, just plain and simple acoustic psychedelic rock. I love how in these tunes, you can find simple happiness and joy, you just hear it in tone of his voice, in sound of guitar and rhythm pattern. Simple joys of life that no money can buy (except money that you needed to buy this LP back in 70s, but now you'll getting it free ;D, but hey, support your record store :) ). "Babylon" starts like some ELP tune with taste of good ol' Pink Floyd on "Ummagumma"
(that tells you how these guys are talented). Collision of acoustic guitar pumping and noises from outer space with cool riffing makes this so delicious. And also, I've got to admit that choruses in most of songs are so catchy. Damn. "Last Flight To Eden" is timeless-nostalgic acoustic guitar instrumenal that Jorma Kaukonen wouldn't be ashamed of, and to spice things up, there Jethro Tull-ish flute. "Prelude" is short brake with reversed guitar, and "Hello Sunshine" is greeting to the sun, with nice psych folky guitar. When psychedelic hippie folk is theme of debate, you would expect either to sound like some hillbilly country music with some wah wah guitar, or too-oriental with sitars and Hare Krishna thing. But this is mature psych folk, gently acoustic guitar, nice mellow singing and great electric guitar support. It keeps a rural feeling, but doesn't go to a redneck's side. "They Knew What To Say" is another good tune with awesome guitar work that sounds like CSNY during their early years when Crosby smoked tons of pot (well, he stills smokes equally xD). If you been wondering where's that damn sitar, "The Persian Canvas" sounds like it's name. Flutes, bongos, sitars,organs - instant trip to India. "A Thousand Years" follows trails of "The Persian Canvas" - same instruments, different groove. The sound these guys are gettin' is mindblowing. And there's one more thing that's mindblowing - look at the date album was released. 1975, that's right - mainstream hippie movement was long gone for almost 5 years - how these guys managed to sound like it's 1967 back again? I don't know if it's isolation, acid, peyote, superhash, trip to India or whatsoever blame for this, but these guys managed to do true psych folk when progressive rock, hard rock and even punk was the main thing on radio stations. Recommended to all hippies, beatniks, love childs and those who just want listen to good psychedelic folk.
SCORE:
+West Coast sound
+roots psychedelic folk in 1975
+acoustic guitar background
Cover Art: 9/10

-

Great psychedelic art, remind me of that San Fran posters of Wes Wilson and his contemporaries. Makes that final touch to this great psychedelic album.
Psychedelic Rock sound : 8/10
Folk Rock sound : 9/10
Blues Rock sound : 3/10
Trip-o-meter :
10/10
TOP TRIPPY STUFF!
Recommended Tracks : Whole Album!